PREORDER NOW OPEN for new 5turns25 album "Evolution of the Human Heart"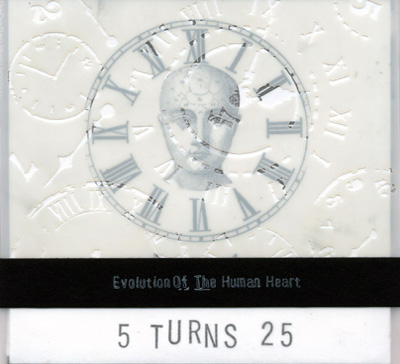 The new full length release from 5turns25, "Evolution of the Human Heart," is now available for preorder from Time Released Sound! The album features 15-tracks of the kind of music you've grown to expect from this Northeast US folktronic ambient duo – experimental, guitar-centric, Americana, multi instrumentally looped ambient folkdrone.
This release will be available in only one limited edition version of 100 copies, due to the painfully labor intensive nature of the packaging, of which only 60 will be available at the site. In TRS' usual over-the-top fashion, "each of these beauties will come with a filmic referenced , torn out and hand worked/collaged double sided notebook page. Each of these pages has a pair of mismatched clock hands suspended from it by thread. You may have noticed by now that we at TRS prefer our clocks to be handless…so we are at last providing you with some hands of your own, just in case you care to keep track of the time more than we! Also included are a pair of beautifully printed and uniquely artified double sided inserts, which along with the lovingly designed and thermal printed disc come in the now ubiquitous translucent 6″ square envelope…which in turn is fronted with it's own specially produced Time Released Sound clock stencil, and all held snugly in place with a hand stamped black band!"
PREORDER YOURS TODAY BEFORE THEY SELL OUT: 
http://timereleasedsound.com/releases/5turns25
5turns25 on 'A New Band A Day'
As posted on May 12, 2009 / www.anewbandaday.com -
Music/Life Synchronicity Moment #24986 took place this morning, and this time it featured an early 90′s ambient classic and, er, a road sign.
It was one of those electronic roadsigns, intended to flash up "Sorry for the inconvenience", and yet, ironically, was inconveniently performing its best impression of a ZX Spectrum loading screen.
The important thing was that the flickering, when not giving epileptic drivers a few anxious moments, seemed to harmonise beautifully with Little Fluffy Clouds by The Orb, a song, remember, that found meaning in clouds. I suppose it's not too big a leap to then find equivalent beauty in a spasmodic sign, which I did. It was a curiously relaxing sight.
If I'd been listening to Today's New Band, 5 Turns 25, similar confusion may have ensued. They make music that is almost beyond ambient – only one step beyond the sound of a band warming up, and one step behind true coherency.
Elephant Platform aches with the rhythm of an iron lung, sucking and blowing ennui-filled sighs. New Hand, Same Brain twinkles with warm sunshine and summery delight, marshmallow-soft; welcoming but obtuse. Effects Of Colours is hearing shards of a song played far away, and caught only when the wind changes.
5 Turns 25's music is a beautiful, organised jumble of sonic texture, thoughtful clutter and deliberate, precise disjointedness. They'll yank you, gently, from your daily grind/worries/chores, and you'll emerge, 20 minutes later, in a fug of serenity. Yum yum yum. Listen here!
5turns25 on Dandelion Radio this month – London, UK
DJ Jeff Grainger is featuring music by 5turns25 on his radio show in May on Dandelion Radio based out of London, England. The show will play at various times every day through the end of the month.
Thanks Jeff!
5turns25 music on Radio K/ Minneapolis, MN – 4/29/09
Radio K – Now Like Photographs
Playlist Episode CCXVII
April 29th, 2009

Telefon Tel Aviv – Your Every Idol
The Cancer Conspiracy – V
Double Handsome Dragons – I Saw Simon Dance
Dan Deacon – Slow With Horns / Run For Your Life
Projective Module – Untitled 04
Tristeza – Otak
Falcon Arrow – Septaplex
Jon Hopkins – Wire
Saxon Shore – Be A Bright Blue
Hotel Hotel – Bargaining
5turns25 – Bend Light Backward ***
Russian Circles – Enter
Jack Marchment – Sebastian
Mogwai – 2 Rights Make 1 Wrong
On Ensemble – Silverback
Robin Foster – Life Is Elsewhere
Terminal 23 – Rød Måne
From Monument To Masses – The First Five
Gui Boratto – Godet
Thank you Chris and Josef!!
CD Review: Unexpected Delights in Electroacoustic Sound Worlds
* * CD Review: 5turns25 – Unexpected Delights in Electroacoustic Sound Worlds * *
By Robert Eustace – Avant Sacred Artist www.myspace.com/roberteustace
5turns25 is: John Kasiewicz and Dan Tressler, Easton, Connecticut (USA)
Brand new 2009 series of (4) CD's New Releases: * * (1) "CLOUDS UNFOLDED" (blue cover), * * (2) "HAMSTERS ON TREADMILLS" (brown cover), * * (3) "ORIGIN OF CLAWS" (beige tan cover), * * (4) "ELEPHANT PLATFORM" (burgundy cover), label: (Scattered Disc), all CD's are available through: 'CD baby', All music compositions/ improvisations by: John Kasiewicz and Dan Tressler
Ever since I began listening to music, I have found that my first initial song memories are always centered on this notion of 'SPACE', usually spurned on by a unique keyboard sound, a delightfully odd musical juxtaposition, lush orchestral passages…. These songs would convey a sense of light, atmosphere, multi-dimensionality, constant affirmation, breakthroughs, the sensation of floating or soaring through free space, limitless potentiality, infinity. On the other hand: the primordial, darkness, absolute calm, mystery, historical layering, medieval austerity, melancholia, a dead seriousness…. A partial chronological listing of my earliest special music moments would be: "Telestar" by the Tornados, 1962 (the first 'space age' song, about the famous Telestar satellite…. produced by the legendary Joe Meek), * "Everyone's Gone to the Moon" by singer/ songwriter Jonathan King, 1965, * "Two Thousand Light Years from Home", by the Rolling Stones, 1967 (from the LP: 'Their Satanic Majesties Request") * "Tuesday Afternoon" (1967) and "Legend of a Mind" (1968), by The Moody Blues * "Astronomy Domine" (1967) and "Cirrus Minor" (1970) by Pink Floyd, "In the Wake of Poseidon, by King Crimson, 1970 (from the self titled LP) * Tangerine Dream * Brian Eno and ad infinitum….
Now add to this list the Ambient/ Electroacoustic/ Experimental Offerings of: 5turns25.
Without knowing anything about them, I was at first glance drawn to their music profile icon – what appeared to be an ancient diagram of a sphere's rotation in space, superimposed upon a luminous, fiery, liquid burst of intense heat. This image immediately conjured up ideas on medieval alchemy, creation, processes of transformation, apocalyptic destruction and renewal…. I was intrigued and wanted to investigate further. Upon listening a number of times to selected music samples, I found myself starting to write down my impressions. What began as a quick surface glowing comment became the inspiration to concretely set into words my deep appreciation of this decidedly different and worthy music. Thus, my music review presented here.

Continue Reading →
5turns25 music on WUSB / Stony Brook, NY – 4/08/09
WUSB / 90.1FM 04/08/2009
"Scream The Sound"
…
5turns25 Desert Ants Elephant Platform
…
Thanks Brian!
5turns25 music on WSCA / Portsmouth, NH – 3/20/09
WSCA 3/20/09
"If Only You Could See What You Hear "
100 Years Ago – Tim Hecker
Angela – Speck Mountain
There Is Always the Thrill of Just Beginning – Pan American
Red Oak Way – Lotus Plaza
Without Much Time – Chriss Sutherland
Shadow Man – Trentalange
So Bored – Wavves
If I Wanted To Be Famous (I'd A Shot Someone) – The Rock-a-Teens
The Silent One – Hotel Alexis
I Leave Stones Unturned – Unbunny
VHS Dream – Deerhunter
Everything Beyond These Walls Has Been Razed – Reigns
Out on a Limb – Faunts
Makia Ono – Dusty Bluvins
Sleep – Trembling Blue Stars
Promenade Spring – Matti Bye/Mattias Olsson
Influenza – Gene Loves Jezebel
Desert Ants – 5 Turns 25
Xing – Giving the Table a Name
Dr. Cameron's Round – The Darkening Scale
Waiting for a Train – Flash & the Pan
Walkabout – John Barry
Wonderful – The Beta Band
Caledonia – Ghost
The Way to Market Station – The Aislers Set
Man Vs. Nature – Killdozer
1969 – Boards Of Canada
Thanks Kristen!